ISLAMABAD: The federal government on Monday announced a hike of Rs6.72 per litre in the petrol price for the remaining days of August 2022, according to a notification issued by the Ministry of Finance.
The price of diesel saw a decrease of Rs0.51 while the per litre rate of light diesel jacked up by Rs0.43 per litre. The price of kerosene oil decreased up to Rs1.67 per litre, the notification read.
According to a notification issued by the Finance Division, petrol will now be priced at Rs233.91 after the latest hike, followed by high speed diesel at Rs244..44, kerosene oil at Rs199.40 and light diesel at Rs191.75.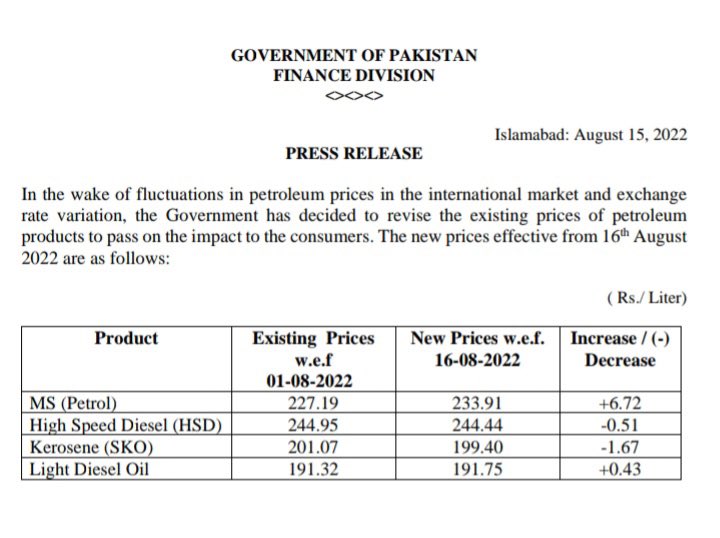 The new prices will come into effect from midnight tonight.
The government last month reduced the price of petrol by Rs3.05 per litre, but jacked up the rate of high-speed diesel (HSD) by Rs8.95 per litre.
Oil prices fall in international market
It is worth mentioning here that PM Shehbaz-led coalition government has announced increase in fuel prices despite falling global oil prices.
Oil prices globally fell by more than $4 a barrel on Monday on demand fears as disappointing Chinese economic data renewed global recession concerns.
Brent crude futures fell $4.35, or 4.43%, to $93.80 a barrel by 1351 GMT after settling 1.5% lower on Friday.
U.S. West Texas Intermediate crude was down $4.23, or 4.59%, at $87.86 after dropping 2.4% in the previous session.
Brent crude open interest this month is down by 20% from August last year.